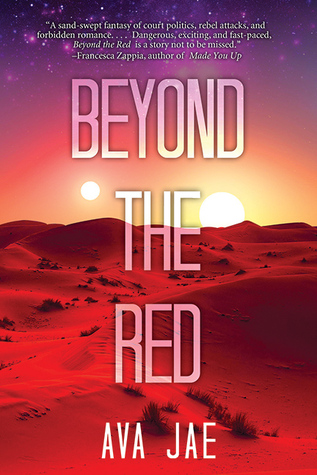 Beyond the Red by Ava Jae
Genre:
Young Adult, Science Fiction, Dystopian
Pages: 360
Publisher: Sky Pony Press
Source: eARC from Edelweiss
Release Date: March 1, 2016
Alien queen Kora has a problem as vast as the endless crimson deserts. She's the first female ruler of her territory in generations, but her people are rioting and call for her violent younger twin brother to take the throne. Despite assassination attempts, a mounting uprising of nomadic human rebels, and pressure to find a mate to help her rule, she's determined to protect her people from her brother's would-be tyrannical rule.
Eros is a rebel soldier hated by aliens and human alike for being a half-blood. Yet that doesn't stop him from defending his people, at least until Kora's soldiers raze his camp and take him captive. He's given an ultimatum: be an enslaved bodyguard to Kora, or be executed for his true identity—a secret kept even from him.
When Kora and Eros are framed for the attempted assassination of her betrothed, they flee. Their only chance of survival is to turn themselves into the high court, where revealing Eros's secret could mean a swift public execution. But when they uncover a violent plot to end the human insurgency, they must find a way to work together to prevent genocide
---
Excerpt:
My brother just killed me. Again. I know, because I wake with a knife to my throat and the cool barrel of a phaser pressed against my forehead. Good morning to you, too.
"Blazing suns, Day," I murmur, rubbing the grogginess from my eyes. "If a Sepharon soldier manages to find camp while I'm sleeping, I accept I'm dead, okay? Now let me rest."
I'm ready for some kinduv snappy comment about how I'm dead twice now—when I'm too tired for Day's drills, he sometimes mock-kills me in six or seven different ways before launching into his the aliens won't let you rest spiel—but it doesn't come. Maybe I should apologize for not taking him seriously, but it's hard to be amped up all the time over such a distant threat. Most of us haven't even seen a Sepharon, let alone come close enough to have to fight one, even if Day insists we'll eventually have to.
Still, the quiet is unlike him.
I lower my hands and peer into the darkness of the tent. It must be earlier than I thought, because the suns haven't risen yet. A shadowy figure cloaked in black stands over me. Silence twists through my chest. The hiss of shifting sand nearby sets my pulse racing. There are others here. And since when does Day wear a cloak?
"Sit up, boy," the figure says, and his light voice surprises me—he's a kid, can't be older than fourteen—and he's calling me boy? He nudges the phaser. "Scream for help and I'll cook your brain."
I sit up. Carefully. No sudden movements. My fingers are cold and my heart's about to explode, but I force a slow exhale and swallow a bout of nausea. If this is some kinduv training exercise, Day's gone way too far. As head of security, my brother's obligated to be paranoid about raids from the Eljan Guard, but if they ever find us, they won't sneak into my tent and hold me at phaserpoint—they'll just raze the place to the ground.
A thought worms into my mind and a shot of ice hits me in the stomach. What if this isn't a drill?
My eyes adjust, and I can make out the others—three figures cloaked in dark colors, curved black phasers in hand, standing near the entrance of my tent. They shift nervously, and one is digging the toes of his left foot into the red sand. Definitely not trained soldiers. Judging by their lack of height and use of English, they're human, which means they're probably from camp. So what do they think they're doing?
If they weren't armed, I could take them out easily, but I'm not willing to risk a lucky shot to the chest with a phaser blast. The only way for me to escape this would be to turn their weapons against them. There's no way I'd do that to a bunch of kids.
"We should hurry," one of the companions whispers, and the boy holding the phaser and knife outstretched nods and steps back.
"Get up."
---
About the Author:
Ava Jae is a writer, an Assistant Editor at Entangled Publishing, and is represented by Louise Fury of The Bent Agency. Her YA Sci-Fi debut, BEYOND THE RED, is releasing March 2016 from Sky Pony Press. When she's not writing about kissing, superpowers, explosions, and aliens, you can find her with her nose buried in a book, nerding out over the latest X-Men news, or hanging out on her blog, Twitter, Facebook, Tumblr, Goodreads, Instagram, or YouTube channel.
---
Giveaway: 1 winner will receive a finished copy of Beyond the Red!
Entrants will be open to those 13 years of age and older.

The giveaways is US only.