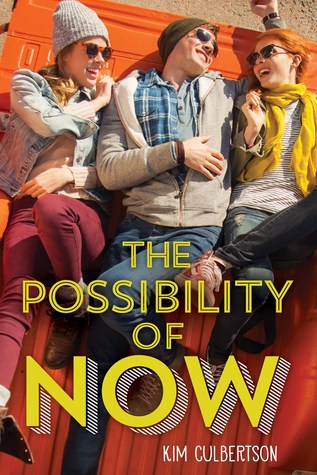 The Possibility of Now
by Kim Culbertson  
Format: Physical Arc
Genre: Contemporary
Published January 26th 2016 
Pages:305 
Publisher: Scholastic 
Stars: 2.5 out of 5
Summary from Goodreads
---
Mara James has always been a perfectionist with a plan. But despite years of overachieving at her elite school, Mara didn't plan on having a total meltdown during her calculus exam. Like a rip-up-the-test-and-walk-out kind of meltdown. And she didn't plan on a video of it going viral. And she definitely didn't plan on never wanting to show her face again.
Mara knows she should go back, but suddenly she doesn't know why she's been overachieving all these years. Impulsively, she tells her mom she wants to go live with her estranged dad in Tahoe. Maybe in a place like Tahoe, where people go to get away from everyday life, and with a dad like Trick McHale, a ski bum avoiding the real world, Mara can figure things out.
Only Tahoe is nothing like she thought. There are awesome new friends and hot boys and a chance to finally get to know Trick, but there is also still massive amounts of schoolwork. Can Mara stopping planning long enough to see the life that's happening right now?
The Possibility of Now had such a potential to be great, with its original plot and themes of self discovery, rebuilding relationships and learning how to have a healthy balance with school work and life. It sounded like something that I would like reading. Unfortunately, The Possibility of Now evolved from Mara learning how to deal with the aftermath of her very public meltdown and discovering what it's like to live in the now to a romance and spending every waking minute skiing. Now, I wouldn't have minded this if the synopsis hadn't been so misleading. Here I thought that I would be seeing her rebuild her relationship with her father, work through the pressure of school etc. and I'm getting everything but this in the story!
As a high school student I can understand the amount of pressure that she feels at school and having a hard time finding a balance with homework and life because sometimes I feel the same way. So in the beginning I could completely relate to her and her situation ( well, not completely, I haven't had a public meltdown. Yet.). But as the story went on Mara became difficult to understand. For being so "by the book" and always rigidly adhering to her lists she seems to make a a lot of very impulsive decisions. Such as her move to Tahoe, when she doesn't really have a relationship with her father, her skipping therapy appointments just because she'd rather hang out with friends, and not trying to do well on her homework assignments. I don't know, it just seemed like a really weird way to develop a character.
To me, living in the now doesn't mean disregarding all responsibility just because you'd rather do something fun. It means knowing when to step back and be in the moment. By that I mean, not being on your cell phone all of the time or knowing when to put a book down and instead of reading about someone else's adventures go and create your own. I wish that Mara had been able to reach this conclusion by the end of the book, because to me, it never felt like she was able to understand what "living in the now" means.
The romance aspect was terrible. If you could even call it that. Most of the romance, or book for that matter, was spent skiing.

It felt like the story shifted from Mara's self discovery to Mara skiing ALL THE TIME! After a while, the aspect of skiing became boring and slowed down the pace of the book.
I also really wished that her relationship with her father had been further developed and that it hadn't been so rushed and hurriedly thrown into the end of the story, just like the explanation as to why he was cut out of her life, which in my opinion was a bit unreasonable. Like, yes, I can understand why her mom would be upset by his actions but, to have him completely cut out of Mara's life for that one thing just seemed irrational. But this is how all of the character development is structured. Left unresolved throughout the book and then everything is hastily resolved in the last three chapters. 
Overall, this book wasn't what I had expected or wanted to read so I didn't enjoy it as much as others have. I think that if you are into contemporary young adult fiction then yes, by all means, go and pick it up. I wouldn't recommend this book to anyone who doesn't like fluffy, annoying, cheesy books.
---
Thank you so much Scholastic and the Sunday Street Team for providing me with a physical copy for review. In compliance with FTC guidelines, I must state that I received this book for free and was in no way compensated for my review.